Chance & Charity Bingo Night
October 2, 2021
Virtual Fundraiser
Join us for an evening of BINGO & Music !!!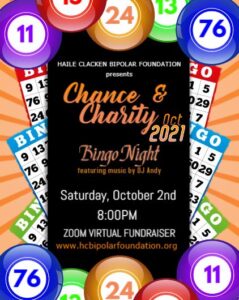 Support our mission to remove stigma from mental illnesses.
Saturday, October 2nd @ 8:00 pm EDT 
$10 per player (2 Bingo Cards)
Get your tickets by Friday, October 1st at 11pm EDT 
** Special Deadline Extension until 6pm EDT Saturday, October 2nd **
Can't Make it? Additional donations are appreciated
Thank you for supporting a good cause !!
REGISTER BELOW