Chance & Charity
Bingo Night
Sept 12, 2020 Virtual Fundraiser
Join us for an evening of BINGO & Music !!! Support us in our mission to remove stigma from mental illnesses.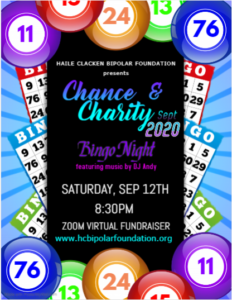 Saturday, Sept 12th @ 8:30 pm
$20 PER PLAYER (2 BINGO CARDS)
EARLY BIRD DISCOUNT – EXTENDED
$10 per player (2 Bingo Cards)
FINAL CUT OFF
Get your tickets by 11pm on Friday, Sept 11th
Can't Make it – Additional donations are appreciated
Thank you for supporting a good cause !!
REGISTER BELOW
After you register you will receive your Bingo Cards via email. Each player will receive two (2) easy-to-use electronic Bingo Cards. Quick demo @ 8:15pm – how to use the cards right from your smartphone.
BINGO Game Calls live on Zoom!!!! Zoom details provided with registration.