Virtual Session
New York – March 9, 2021
Haile Clacken Bipolar Foundation (HCBF) is proud to partner with the National Alliance for Mental Illness of NYC (NAMI) in a virtual segment of In Our Own Voice.
In Our Own Voice is presented by two trained volunteers who are living with a serious mental health condition. The presenters talk about their experience of mental illness and recovery and describe the mental health resources that are available at NAMI NYC. During the hour-long presentation audience members are also encouraged to ask questions and share their own experiences.
The discussion will provide: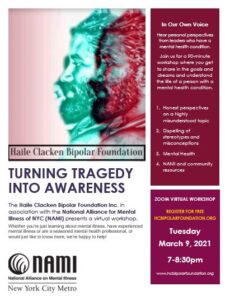 open and honest perspectives on a highly misunderstood topic
deeper understanding of mental health conditions and dispelling of stereotypes and misconceptions
understanding the lives of people with mental health conditions
more information about mental health and get involved with the mental health community.
Date: Tuesday, March 9th
Time: 7pm – 8:30pm
Cost: Free

REGISTER ONLINE