Love & Charity
Bingo Night Virtual Fundraiser
Saturday, Feb 11, 2023
Support us in our mission to remove stigma from mental illnesses, and join us for an evening of BINGO with delightful entertainment from saxophonist, Al Chisolm III.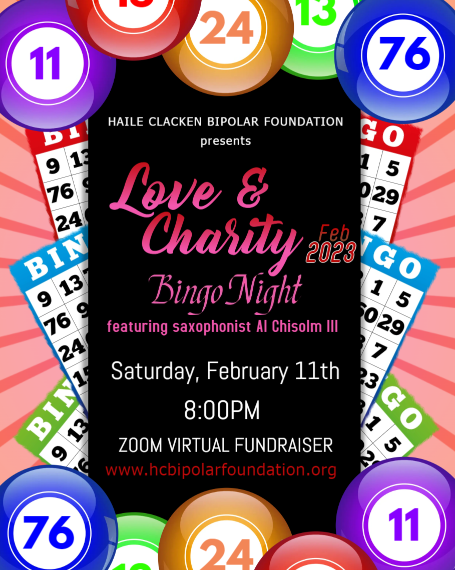 Get your Bingo tickets! (advance purchase only)
$20 per player (2 Bingo Cards)
1st Game starts at 8:10pm
Grand Prize: $200
Join us @ 8pm EST for a quick demo on how to use the cards right from your smartphone.
Additional donations are appreciated
Thank you for supporting a good cause


REGISTER BELOW
This virtual event is being hosted via Zoom.

After you register, you will receive two important emails:
a) the first email will provide your registration confirmation and include call details for zoom
b) the second email will have your two (2) easy-to-use electronic Bingo Cards for each player
You must register in advance to ensure you receive your tickets before the game starts.
Please register now to join the fun!!