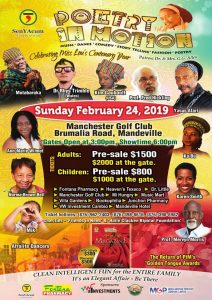 We're on IRIE FM JAMAICA RADIO, Sunday Feb 17 at 9AM
Founder and President of the Haile Clacken Bipolar Foundation, Lilieth Clacken (mother of Haile Clacken), will speak about the charity, which will be a beneficiary of charitable proceeds from the 16th annual SPOKEN WORD FESTIVAL, "Poetry in Motion".  Celebrating Miss Lou's Centenary this year, the festival was conceptualized by renown dub poet YASUS AFARI, who will join the charity's President on air.
TUNE in IRIE FM 9am SUNDAY FEB 17.
HCBF: TURNING TRAGEDY INTO AWARENESS